Spåra formulärspostningar med Google Analytics
Har tänkt igenom hur denna blogg kan bli bättre och roligare att läsa och har en del ideér. För att kunna mäta om förändingar är bra eller dåliga så ville jag först sätta upp några mål i Google Analytics, och det har jag sysslat med de senaste dagarna. Tänkte dela med mig av vad jag lärt mig.
Först tänkte jag igenom vad målen med bloggen är och kom fram till att det viktigaste och roligaste är när man får input från sina läsare. Det är på så sätt som bloggen kan utvecklas och växa och därför bestämde jag mig för att sätta upp följande två mål.
Kontaktformulär skickat

Kommentar postad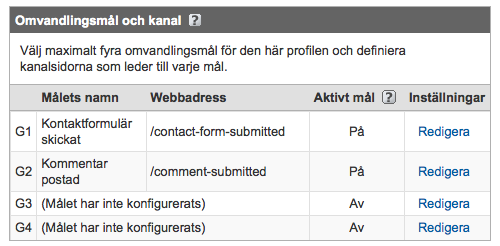 När man sätter upp mål-urlerna i Google Analytics så har man tre olika alternativ, Exakt matchning, Rubrikmatchning och Matchning av vanliga uttryck. Utan att gå in för mycket på dem så kan jag kontatera att Exakt matchning fungerade bäst för det ja ville göra. Hos Google finns det en bra hjälpsida som förklarar hur de olika alternativen fungerar.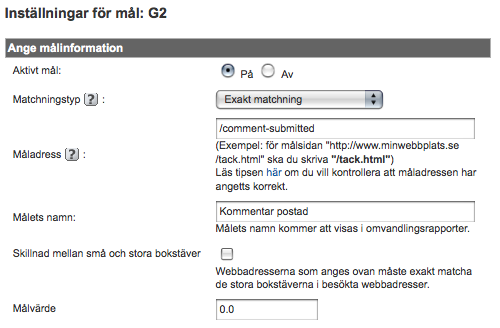 De två målen har jag implementerat lite olika så tänkte förklara här hur jag gjort.
Så satte jag upp mål för Kontaktformuläret

Kontaktformuläret postar tillbaks till sig själv och jag har alltså ännu inte gjort om det till PRG-designmönstret som jag skrev om här om dagen. Eftersom adressen inte ändras var jag tvungen att skicka med den påhittade sida "/contact-form-submitted" som jag angett i mitt första mål.
I ContactControllern (ASP.NET MVC) så skickar jag med parameter i ViewData när användaren har postat meddelandet:
this.ViewData["TrackPageView"] = "\"/contact-form-submitted\"";
Denna parameter sätts sen in längst ner på sidan i skriptet för Google Analytics:
<script type="text/javascript">
//<![CDATA[
var gaJsHost = (("https:" == document.location.protocol) ? "https://ssl." : "http://www.");
document.write("\<script src='" + gaJsHost + "google-analytics.com/ga.js' type='text/javascript'>\<\/script>" );
//]]>
</script>
<script type="text/javascript">
//<![CDATA[
    var pageTracker = _gat._getTracker("<%=Request.Url.ToString().ToLower().IndexOf("codeodyssey.se") != -1 ? "UA-406884-2" : "UA-406884-1" %>");
pageTracker._initData();
pageTracker._trackPageview(<%=ViewData["TrackPageView"] %>);
//]]>
</script>
Mål-koden för kommentarerna
Kommentarsfunktionen har jag nyligen gjort om så den följer PGR-mönstret och här hade jag lite svårare att lägga in spårningskoden på rätt ställe. Provade en del olika grejer där jag bland annat försökte lägga in det på den adress som man postar kommentaren till (bloggurl plus "/add-comment" på slutet). Vet inte exakt varför det inte gick med regulärt uttryck men antar att det beror på att den sidan returnerar en 302-respons (see other adress). Kan vara så att man inte kan tracka såna sidor med Google Analytics.
Sen kom jag på en enklare lösning. La på ett onclick-event på submit-knappen istället där jag anropar pagetrackern och det fungerar nu fint.
<input onclick="pageTracker._trackPageview('/comment-submitted');" type="submit" value="<%= GetLocalResourceObject(" />" class="submit-btn"/>
Först trodde jag att huvudskriptet där tracken inkluderas var tvungen att ligga ovanför eventet, med det visade det sig att den inte behövde, den har ju redan registrerats när sidan laddas. Google Analytics Tracking API var användbart för felsökning och genom att anropa _getAccount() kunde jag bekräfta att eventet hade kontakt med trackern.
Dags att mäta, förändra och förfina
Så nu är det bara att luta sig tillbaks och börja analyserar hur kommentarer och kontaktmeddelande postas på Code Odyssey. Kom gärna med förslag och ideér hur sidan kan göras bättre för att uppmuntra fler kommentarer och rikare samtal.
Vill du själv göra samma sak och använder WordPress kan jag rekommendera How To Track Wordpress Signups and Comments With Google Analytics hos TD Creative.